Japanese boxer Naoya Inoue dethroned WBC and WBO super bantamweight champion Stephen Fulton of the United States with an eighth-round technical knockout Tuesday in Tokyo.
Inoue took a giant step toward his goal of becoming the world's first boxer to sweep four championship belts in two weight divisions following last December's completion of the bantamweight sweep. Marlon Tapales of the Philippines currently has the WBA and IBF super bantamweight titles.
"I determined the distance between us. I was able to fight without feeling like moving up to the super bantamweight division was a hurdle."
"I took down Fulton, the best boxer in this division, but I can get even better," said Inoue.
Asked whether he would now fight WBA and IBF super bantamweight champion Marlon Tapales of the Philippines to unify four titles, Inoue said,
"Absolutely. I am up for it."
Bob Arum, promoter of Top Rank, a major U.S. a boxing promotional company, said Inoue's match against Fulton was a fight that would be talked about for a long time to come and called the Japanese boxer
"a once in a multi-generational talent. The best pound for pound fighter in the world."
NAOYA INOUE
Battle Record
Undefeated
Profile
Date of birth: April 10, 1993
Place of birth: Zama, Kanagawa Prefecture
Height: 165 centimeters
Boxer type: Right hand
Career review:
Wins seven titles during his amateur days with Sagamihara Seiryo Senior High School
December 2010 - Makes professional debut
April 2014 - Wins WBC light flyweight title
December 2014 - Becomes WBO super flyweight champion, goes on to successfully defend the title seven times
May 2018 - Wins WBA bantamweight title, becomes champion in three weight classes
November 2019 - Wins World Boxing Super Series bantamweight title
June 2022 - Becomes first Japanese to unify three major titles and first Japanese to top pound-for-pound ranking published by prestigious boxing magazine "The Ring"
December 2022 - Becomes first Japanese to unify four major titles
January 2023 - Announces decision to vacate all four bantamweight belts and move up to the super bantamweight division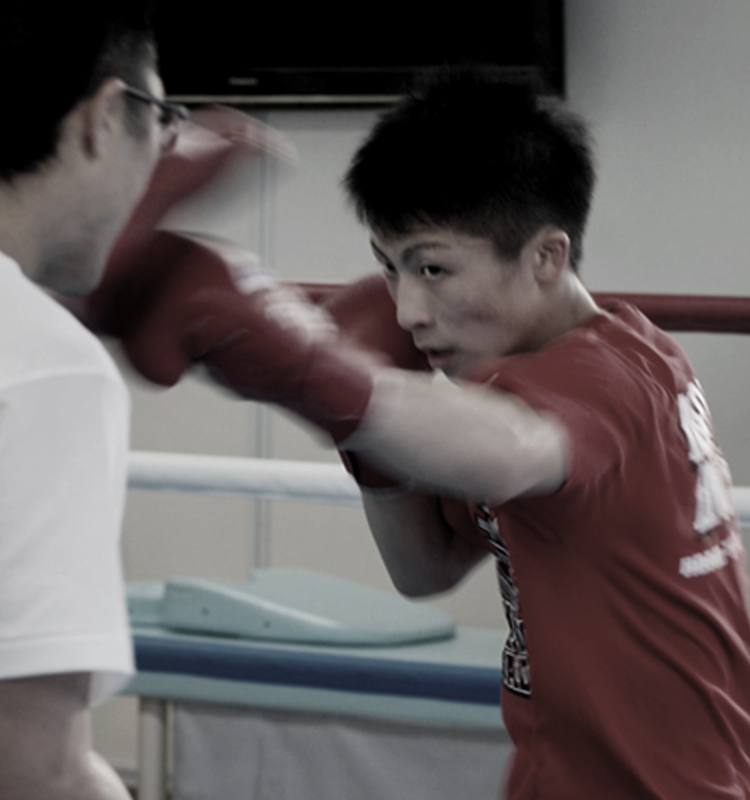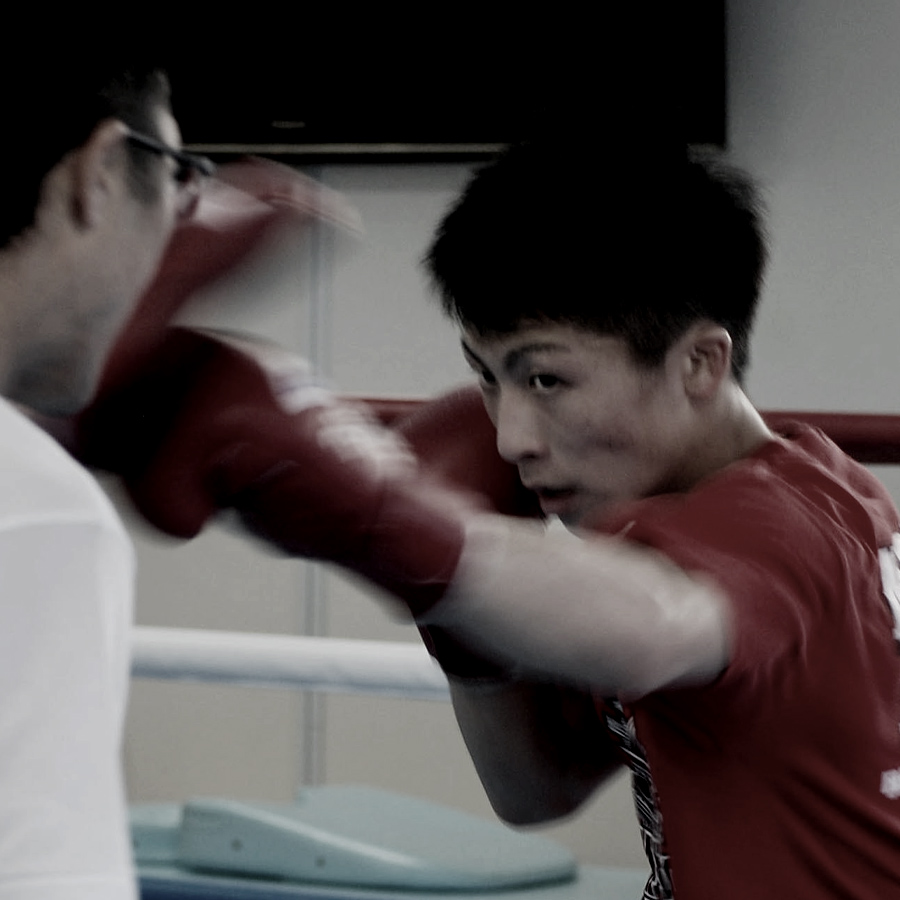 As a first-grader in elementary school, Inoue tells his father he wants to start boxing. Undeterred by his father's warning of how hard the sport is, he says:
"Don't worry. I will toughen up."
Inoue's life as a boxer began in a room at his home. He picked up a pair of gloves in the first grade at the training gym of his father Shingo, a former amateur fighter. Naoya and his younger brother Takuma were taken through the basics under the strict guidance of Shingo, who later opened a gym.
Naoya won seven amateur titles when he was a student at Sagamihara Seiryo High School in Kanagawa Prefecture.
Higashi Yaegashi, Naoya's senior at the gym and a world champion in three different weight classes, recalls the time they exchanged fists: "By the time he reached high school he had become a monster," he said.
Inoue's grip strength and other physical attributes were once rated in a physical test as average for an adult male.
"My physical ability was low," Inoue laughs. His strength was his ability to find space. "I've never had trouble getting within punching distance. I think being able to hit with ease leads to the strength and speed of my strikes," he says proudly.
Even now, Naoya leaves his training up to his father. He says, "Our family built boxing from the ground up. I am not an elite fighter, but rather a graduate. It's meaningless if we don't work together as a family."
His father said Naoya had told him when he turned pro that he didn't want to fight "unless you're guiding me." "It moved me," Shingo said, indicating the strong bond between them.
July 2012
At the age of 19, Inoue passed an open professional test and without difficulty, dominating the reigning Japanese champion at the time and suitably impressing Ohashi Gym chief Hideyuki Ohashi. "The ultimate goal is for him (Inoue) to take on the world and become a monster."
"Take on the world and become a monster."
May 2016
 Inoue repeatedly knocks his opponent down and also breaks his elbow during an open practice session
"I've witnessed up close something that I'd never seen before," Ohashi says of Inoue's fierce punches.
WBC
Light Flyweight
Title Match
April 6, 2014
WBC light flyweight title match. Inoue captures the belt in his sixth professional fight.
"I fought with determination to realize my childhood dream."
WBO
Super Flyweight
Title Match
Narvaez, who had never been knocked down before, loses by technical knockout in the second round.
"He (Inoue) will be a champion that goes down in history."
WBA
Bantamweight
Title Match
Inoue ahead of the fight:
"My main strength is my ability to find space. I've never had trouble getting within punching distance in a match."
World Boxing Super Series
WBA
Bantamweight
Title Match
Inoue knocks out Payano 1 minute, 10 seconds into the first round.
Inoue:
"It was the perfect match. Full marks."
Dec. 2018
25-year-old Naoya Inoue became the first Japanese fighter to appear on the cover of the prestigious American boxing magazine "The Ring". "I think my style and results have been recognized. I'm happy because I've always wanted to be one step ahead of the other Japanese champions," said Inoue.
The cover of the Feb. 2019 issue shows Inoue posing against the backdrop of the "Hinomaru," Japanese national flag. The nickname "Monster" also graces the cover along with the intro for an interview-based feature. The Ring, first published in 1922, has featured world-famous stars on its cover, including former undisputed world heavyweight champion Mike Tyson. Douglass Fischer, the magazine's editor-in-chief, says Inoue is a great champion who should be recognized around the world. Hideyuki Ohashi, president of his gym, said, "This is the first time a Japanese person has been recognized. It's a great accomplishment."
(Photo courtesy of American boxing magazine "The Ring")  
World Boxing Super Series
WBA
Bantamweight
Title Match
Inoue beats Rodriguez by technical knockout in the second round but says,
"I can fight harder. I've still got more to give."
World Boxing Super Series
WBA IBF
Bantamweight
Title Match
August 26, 2019
Donaire tells a press conference ahead of the World Boxing Super Series final that
"The Monster (Inoue) has improved and is one of the best boxers in the world."
Inoue after the bout:
"I took some hard hits and wobbled for the first time in my pro career but I was able to hold on because of my son."
"Donaire was incredibly strong. This fight was nothing like the passing of the torch to the next generation. I enjoyed the thrill of it but I had more left in the tank."
On the chance of becoming the first Japanese boxer to unify three major titles
"This is a sight I've yet to see and I believe I will see it."
View from the world's pugilists and pundits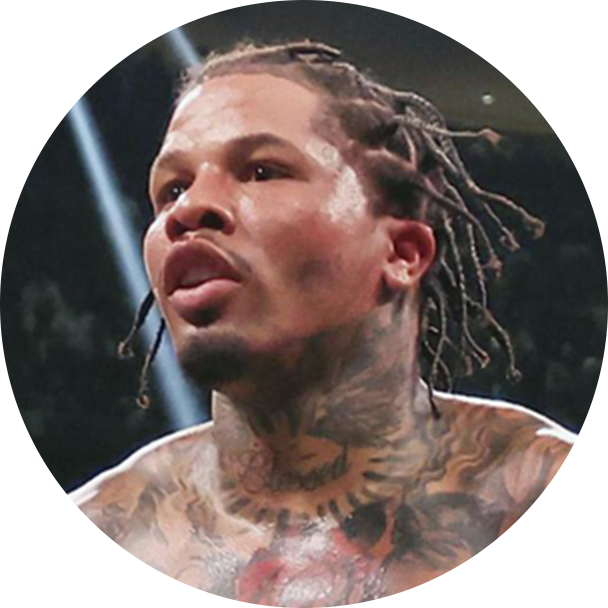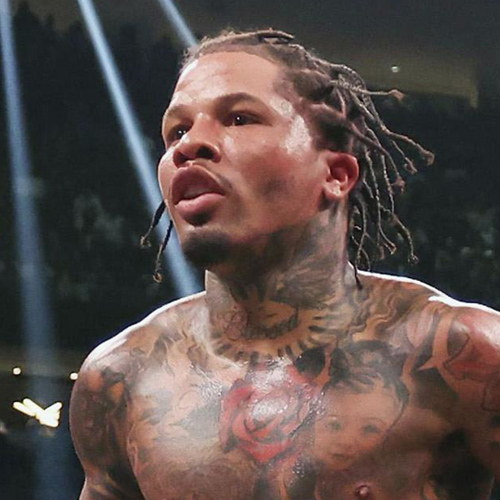 Gervonta Davis
(United States)
Davis speaks to online media outlet Fight Hub TV in April 2023 on the possibility of fighting Inoue in the future.
"I like – who's the guy from Japan? Inoue? Yeah." "That would be a fun fight, and it would be technical. But I think I would be too big for him."
(Photo by Al Bello/Getty Images)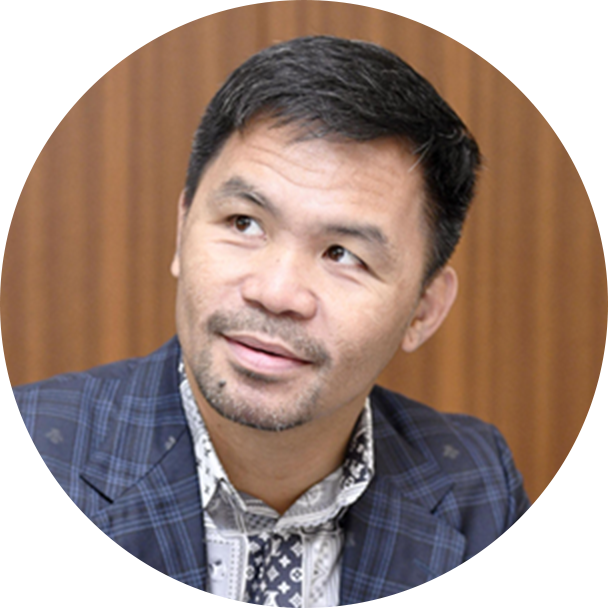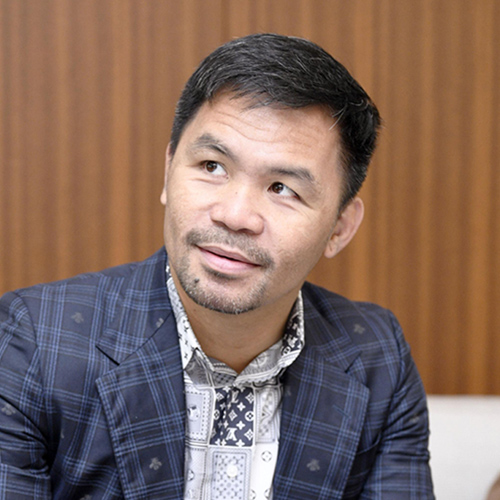 Manny Pacquiao
(Philippines)
The former world champion in six weight categories and national hero in his home country speaks to Kyodo News in May, 2022 about the possibility of Inoue topping Ring's pound-for-pound ranking before he goes on to achieve the feat.
"He is a good boxer, moves around. He can punch. He's strong. "He's young and has lots of potential and just (has to) focus on his career and work hard. Being pound-for-pound boxer in the world is not that easy to accomplish. You need to undergo hard work, (have) discipline and determination."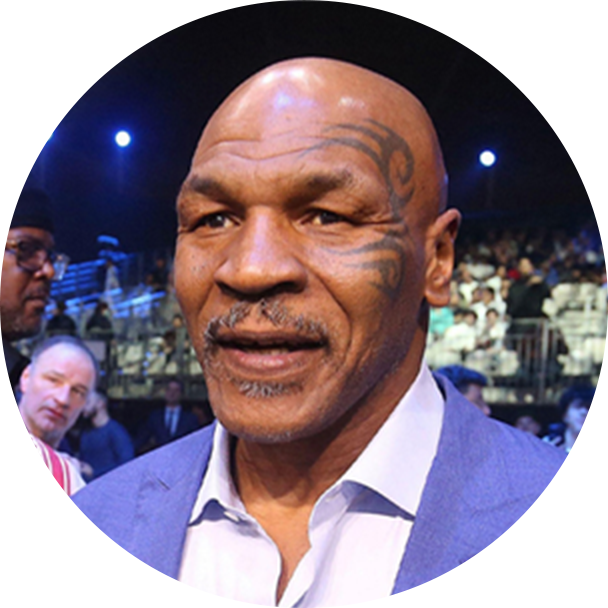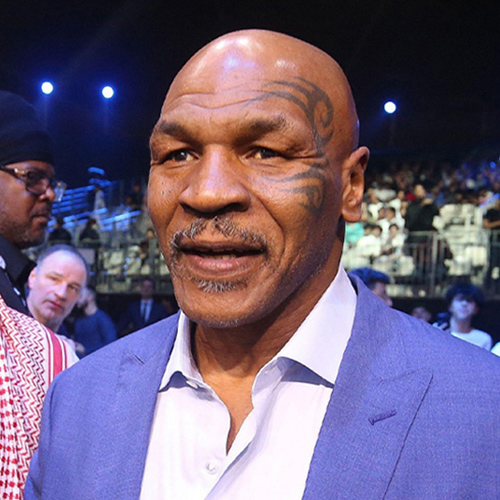 Mike Tyson
(United States)
Tyson speaks to U.S. sports channel ESPN in April, 2023, ahead of Inoue's fight against Fulton
"No one knows him (Inoue) because he's in one of those really small weight divisions but wow, he's exciting. The fight will be amazing."
(Photo by REUTERS)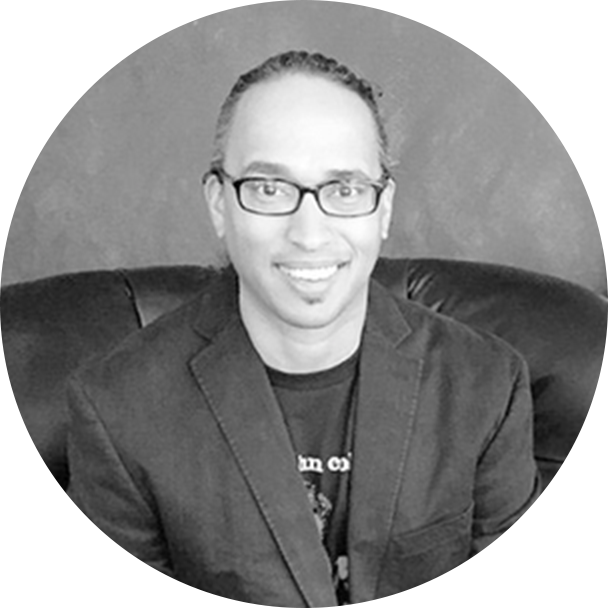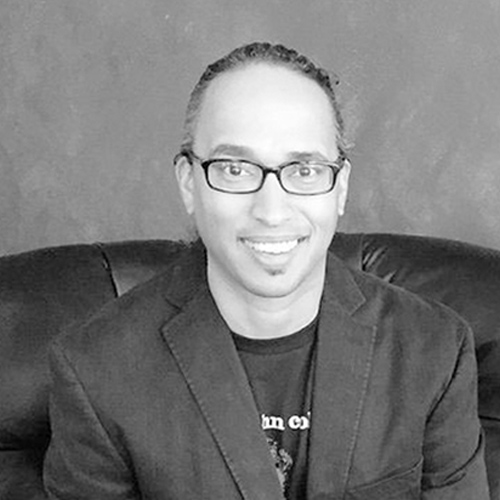 Douglass Fischer
"Inoue is the best blend of natural talent, skill, technique and athleticism that exists in boxing. I think Inoue reaching the top of Ring's P4P rankings is historic, it gives him claim to being the best Japanese boxer of all time. I think he can still be The Monster at junior featherweight.
(Photo courtesy of Douglass Fischer)
WBA IBF WBC
Bantamweight
Title Match
"There will be no drama this time. It will be one-sided and I will finish the job without letting him get a touch on me."
Inoue beats Donaire in their rematch by TKO in the second round
"I put pressure on myself going into the bout to make sure I completely dominated it. I can move up to the next stage."
WBA IBF WBC WBO
Bantamweight
Title Match
"I can deploy all types of boxing. Once I have completed the collection of all four titles I want to move on to the next scene."
Inoue on unifying all four titles the day after his victory
"These are all passing points (in my career). I have not achieved my goal yet and I want to keep on challenging until I have reached my physical limit."